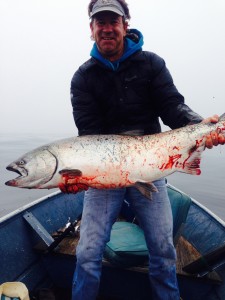 July 18, 2014
We headed North for Shelter Cover the second week of July and were rewarded with great weather and a 35+ pound salmon. Boy, this was exciting in the 18' skiff we were in, 3 miles out with water like glass.
Shelter Cove is a remote beach, so the only way into the water is by hand launching from the beach or hiring the concessionaire to use his trailer with hydraulic, locals avid the line by paying $500 for an annual membership.
We started around 7 am, catching Rock Cod and using this for dinner and also for baiting our crab pots. We set our pots and headed out for salmon fishing and were rewarded with a great catch. All in all, a fine day with Rock Cod, Crab and some really spectacular salmon.
As of July 29, 2014, I have reports of salmon fishing one mile out and 50 feet of water—probably the best spot for salmon on the coast right now.
See our handy fishing links at bottom of page for up to date fishing reports.